News
News   
OPEN
From 10:00am to 6:00pm
Gift Certificates - Gift Card
Gift Certificate $50.00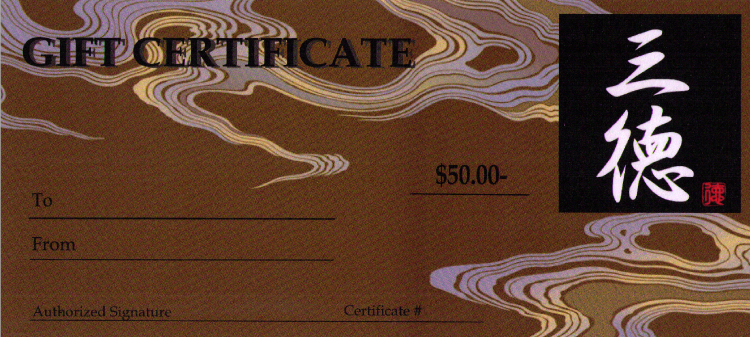 Gift certificates are the perfect solution when you just can't find the right gift or you're short of time. Gift Certificates make a perfect present for friends, family, and business associates.
Charity Donations for Japan Earthquake


Charity Donations for Japan Earthquake / Tsunami Disaster
As you may be aware, on March 11th 2011 a magnitude 9.0 earthquake hit the town of Tohoku, in the northern part of Honshu, the main island of Japan. The earthquake caused a Tsunami that hit the coast of Tohoku and many lives were taken away all of a sudden. 15,000 lives were lost, and 20,000 people still remain missing according to an official report (March 25). The earthquake and tsunami survivors are now living in shelters, evacuation centres, staying in their damaged houses, or sleeping inside their cars. Furthermore, many families were scattered and separated by this devastating natural disaster.
Santoku Equipment Office is asking for your generous support to improve the current situation in the areas of Tohoku. We have been thinking how to make a societal contribution to also help in providing support and aid to the survivors. Instead of donating to mainstream organizations such as Redcross Canada or Redcross Japan, Santoku Equipment Office has been considering local non-profit organizations, and decided to support "Stage Earth", a non-profit humanitarian aid organization based on the Tohoku International clinic in Miyagi. We decided to offer our donation to Stage Earth for its great efforts in caring for the victims of the March 2011 earthquake in Japan. This organization provides psychiatric and psychological care as well as general health care to the survivors. Dr. Kuwayama of Earth Stage, Tohoku international clinic, wrote the following in his blog:
"The clinic needs our help. Many arrive at the clinic without insurance. Supplies are becoming scarce. In a nation with an aging population, there are very few functioning hospitals in the disaster area.
The people of Miyagi need all the emotional and financial support they can get. Many inexpensive medications and treatments can save lives. You can save lives.
Please donate".
I hope you can help us in supporting earthquake and tsunami survivors by donating to Stage Earth. You can go to the link above and donate with your credit card. Santoku Equipment Office also set up the donation box in our shop. We take the responsibility to make sure that 100% of the donations are sent to Stage Earth in Tohoku.
Thank you very much for your kind thought,
107-1118 Homer St. Vancouver BC
(Located Inside - Empress Galleria - )




a:10676 t:1 y:9